Meeting between Chairman, Members of the Board of Directors and Administration of the Cyprus Land Development Corporation with ΔΗ.ΠΑ. delegation
---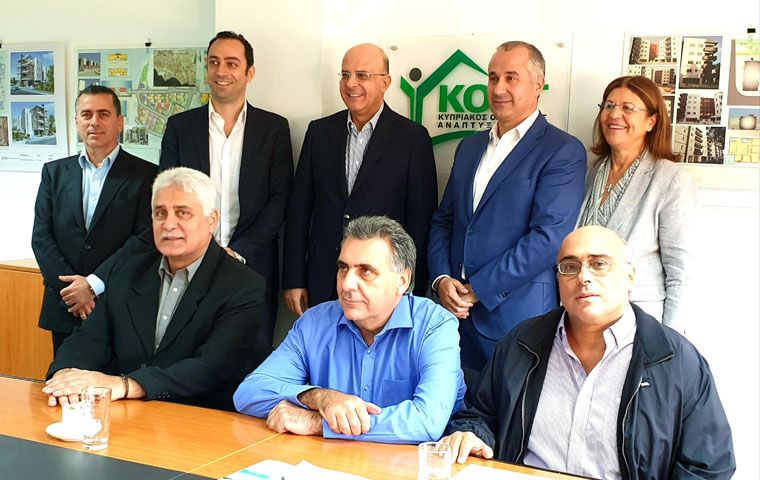 Delegation of the political party ΔΗ.ΠΑ. under Mr. Marios Garoyian visited on 14/11/2018 the offices of the Cyprus Land Development Corporation and had a meeting with the Chairman, Members of the Board of Directors and the Administration of the Corporation.
During the meeting the delegation was informed by the Chairman of the Board of Directors, Mr. Andreas Frangos, about the Corporation's proposals on the current problems faced by vulnerable groups of the population related to their housing. Simultaneously, Mr. Frangos said that the Corporation, as per Ministry's of Interior request, prepared the technical terms of instruction for the preparation of a study on the evaluation, redefinition and reform of the housing policy in Cyprus, according to the pre-election program of the President of the Republic.
Mr. Frangos also referred to the Corporation's success in becoming unanimously accepted as a full member of Housing Europe, the European Federation of Public Cooperative and Social Housing that manages over 26 million housing estates, 11% of existing households in Europe.
Mr. Garoyian expressed his gratitude for the activities and initiatives developed by the Corporation and noted that in the current circumstances, with the increase in rents and the inability especially of young couples with low and moderate incomes to access the free market, the purpose of the establishment of the Corporation becomes even more significant and the reinforcement of its role a necessity.
Mr. Garoyian mentioned that he shall take relevant initiatives to the President of the Republic and the Minister of Interior because, in his view, the Corporation, founded under the rule of Spyros Kyprianou, is more essential today than even the time of its establishment.
22/11/2018