Meeting between AKEL delegation and the Chairman of the Board of Directors of the Corporation, Andreas Frangos
---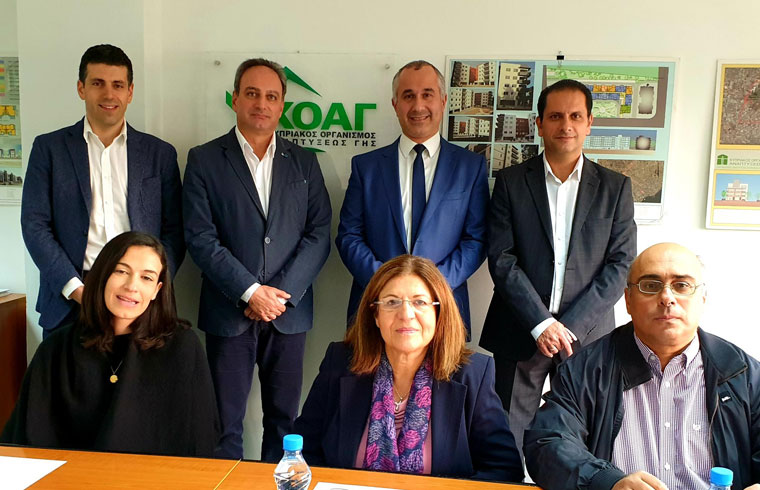 A meeting was held on Friday, November 23rd between AKEL delegation and the Chairman of the Board of Directors of the Corporation, Mr. Andreas Frangos, Members, Messrs A. Konstantinou and P. Livadioti and Dep. G.D. Ms. Maria Kyriakidou. Head of the delegation of AKEL was the party's Press Spokesman and MP, Stephanos Stephanou who was accompanied by the member of P.B. and MP Aristos Damianou, member of the C.C. and head of Department of Economic and Social Studies, Haris Polykarpou and Bureau member, Elena Pikoula.
During the meeting the delegation was informed by the Chairman of the Board of Directors about the Corporation's proposals on the current problems faced by vulnerable groups of the population related to their housing. It was also informed that the Corporation, as per Ministry's of Interior request, prepared the technical terms of instruction for the preparation of a study on the evaluation, redefinition and reform of the housing policy in Cyprus under the Cyprus Land Development Corporation, according to the pre-election program of the President of the Republic.
The delegation was further informed about the success of the Corporation in becoming unanimously accepted as a full member of Housing Europe, the European Federation of Public Cooperative and Social Housing that manages over 26 million housing estates, 11% of existing households in Europe.
The head of AKEL delegation, Stefanos Stephanou, mentioned the need for the government to restore a targeted housing policy on the basis of income and social criteria that would support housing for socially vulnerable groups as well as families facing the risk of divestments. Mr. Stephanou noted, inter alia, the need of constructing high-quality residential areas by the state for servicing weaker income strata, as well as providing incentives for the acquisition of plots by young couples in the countryside.
Mr. Stefanou referred to AKEL's appreciation for the role of the Corporation and underlined the need for government support to promote housing programs for vulnerable population groups.
Concluding, the need for:
the establishment of a Central Body of Housing Policy;
the immediate reinforcement of the housing policy of the state;
enabling the Corporation to continue to play its important and essential role;
was jointly expressed.
29/11/2018